Looking to activate a campaign on GiveNow? First of all you need to register your not-for-profit organisation with us.
Registering with GiveNow from the "Sign Up" button is a two-step process:
Step #1: Register your organisation and cause details (as outlined below). Submit these details and we will aim to approve your not-for-profit organisation registration within one business day.
Step #2: Wait another business day to receive approval of your cause page, and you'll be ready to share your GiveNow cause page and start raising funds!
All free of charge. Easy!
Ensure you have the following documentation and information:

Your organisation's ABN
Certificate of Incorporation (or equivalent)
Authority to Fundraise in each state you are planning to fundraise in or reason for exemption. Click here for more information.
The details of your committee members, Chair, Secretary and Treasurer. If you are not registered on the ACNC, this will include digital verification of these individuals.
Your organisation's logo
An image to use as a cover photo
(i) A bank statement or deposit slip that shows your organisation's name, BSB and account details; (ii) Your authorised signatories for this bank account including their name, email address and date of birth.

Click here to sign up. Once your account is active, two business days later you will be ready to collect funds, and you'll also be able to create an 'Other Ways to Give' listing.
Step by step guide
1. In the header, select 'Sign Up' and then 'Organisation'.

2. Decide which plan you wish to begin on. You can change your plan later if your needs change or you realise you suit a different plan better. All of the features are listed on this page.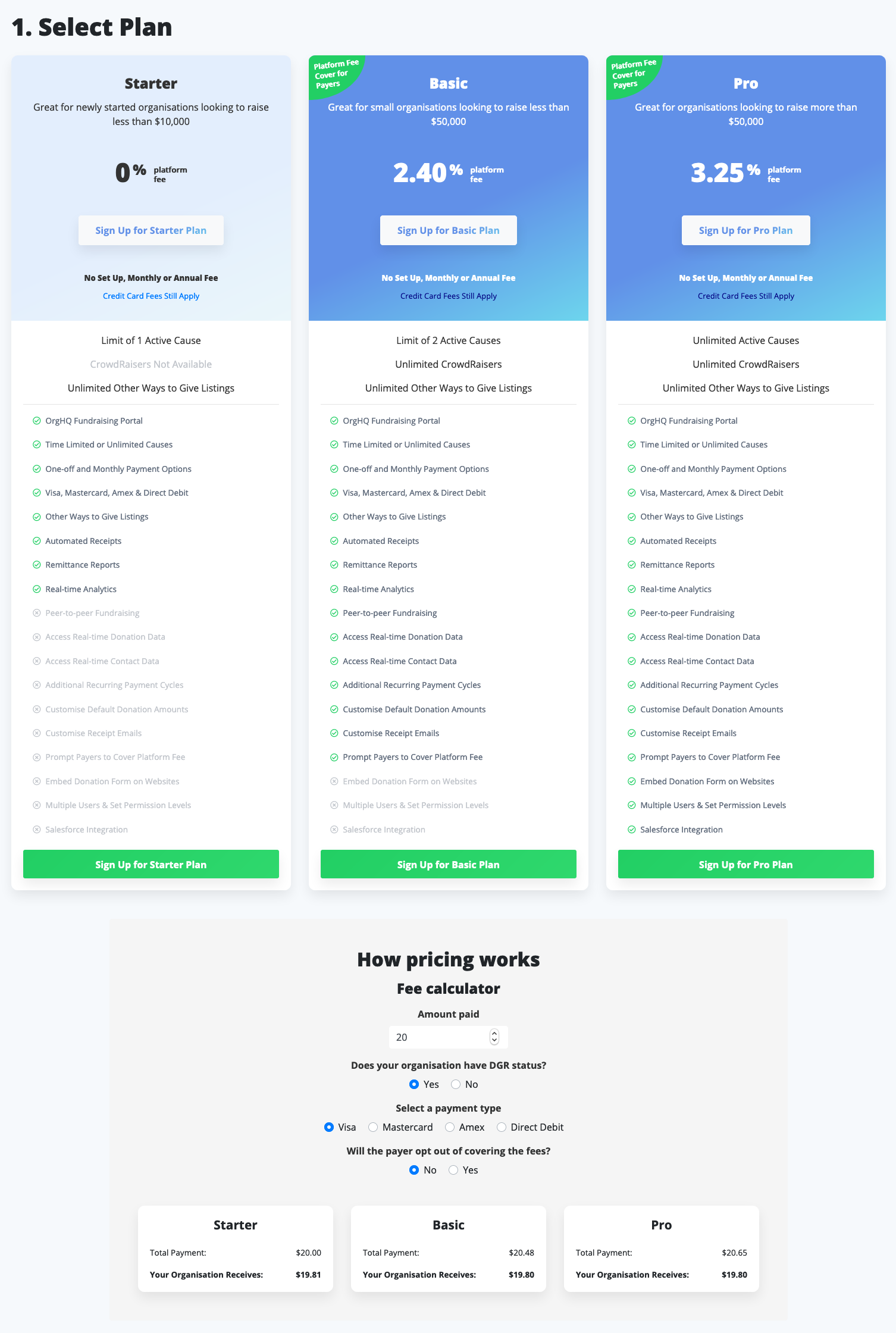 3. Enter your details and click 'Submit'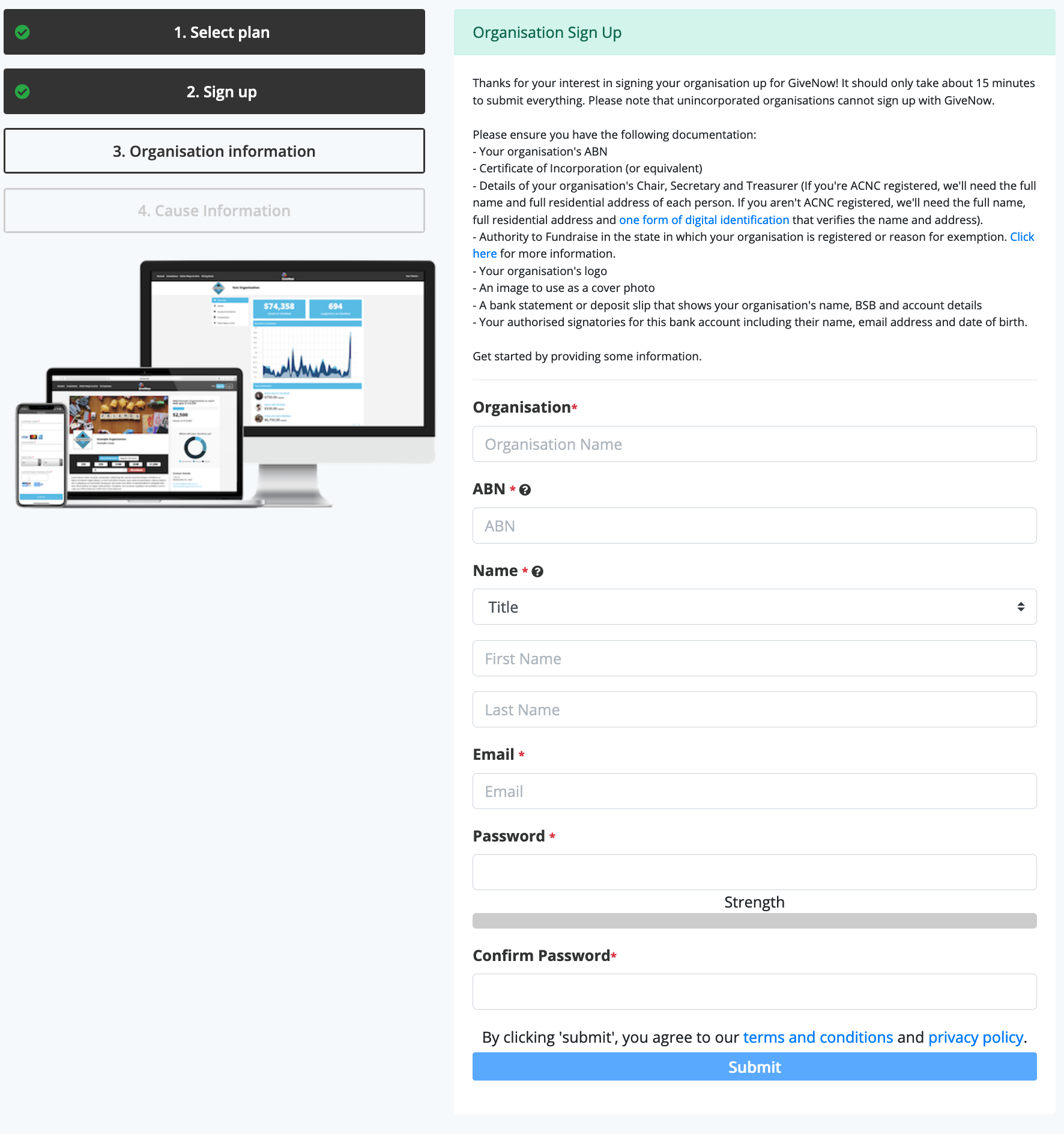 You will see this message: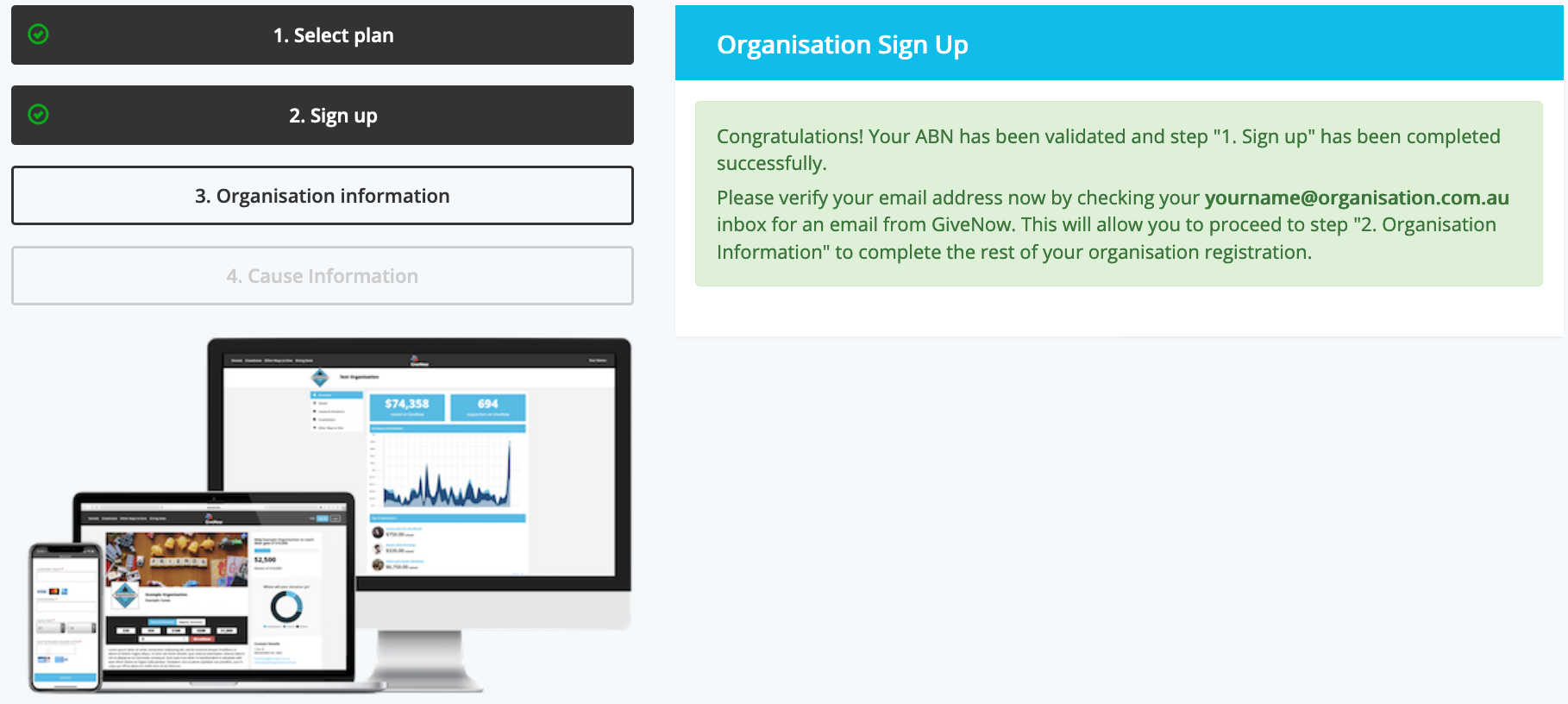 4. Verify your account via the email that was sent to the address provided in step 2.

5. Log in using your password that was entered in step 2.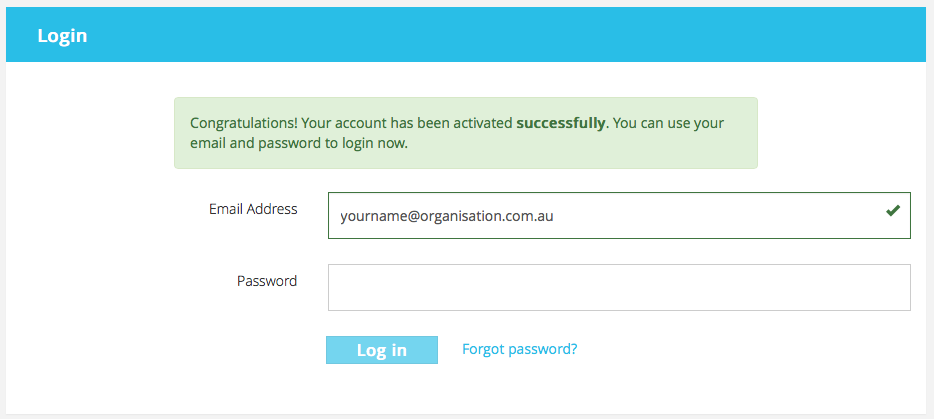 6. Enter the contact information of your organisation and click 'Save & Continue'.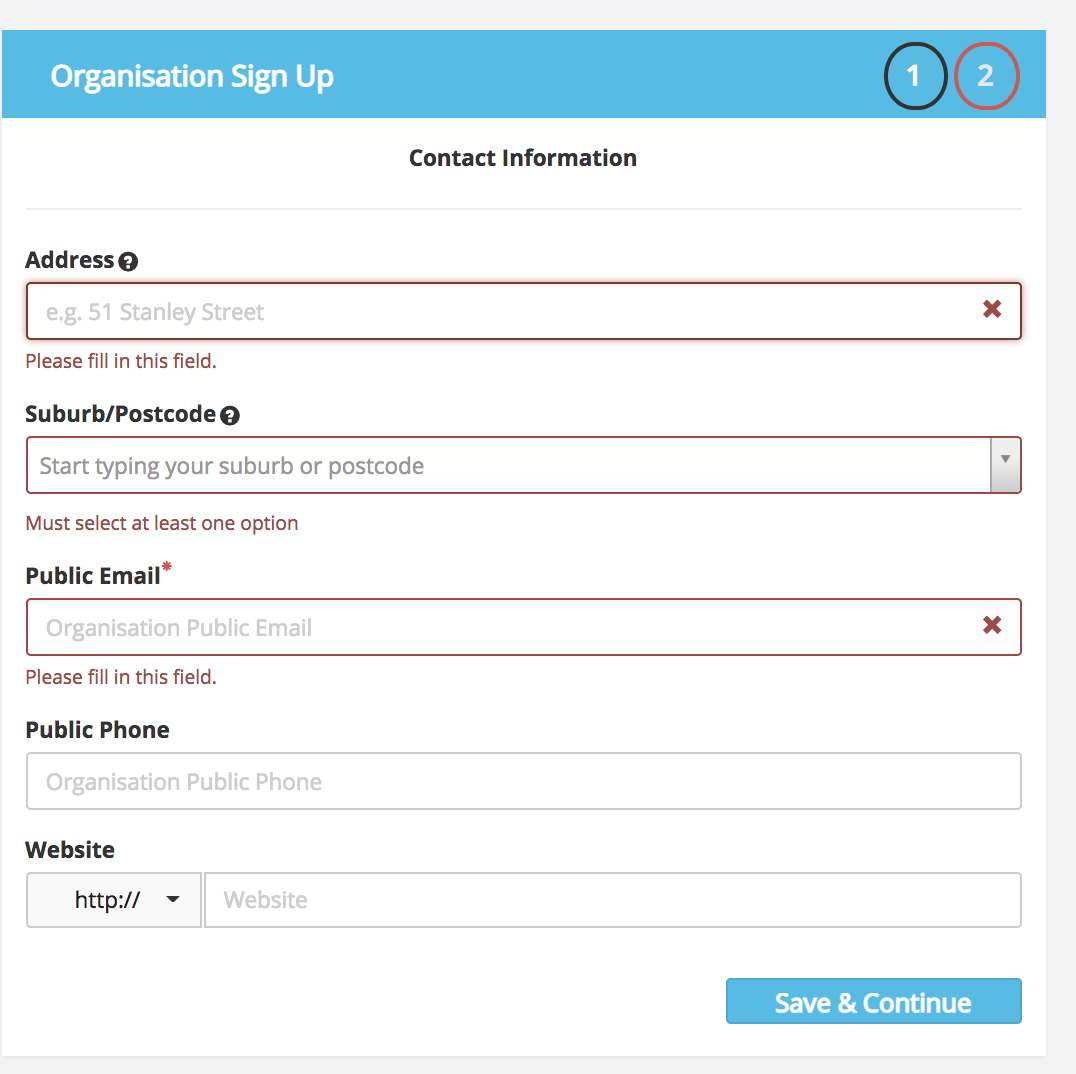 7. On the Legal Information screen, upload your organisation's Certificate of Registration or Incorporation as a Company or Incorporated Association.
Then on the same screen, click on the name of each state and/or territory you intend to fundraise in, and choose the appropriate answer, providing any details requested. Tips are given to help you in this section.
When you have finished entering the details for each state and/or territory, click 'Save & Continue'.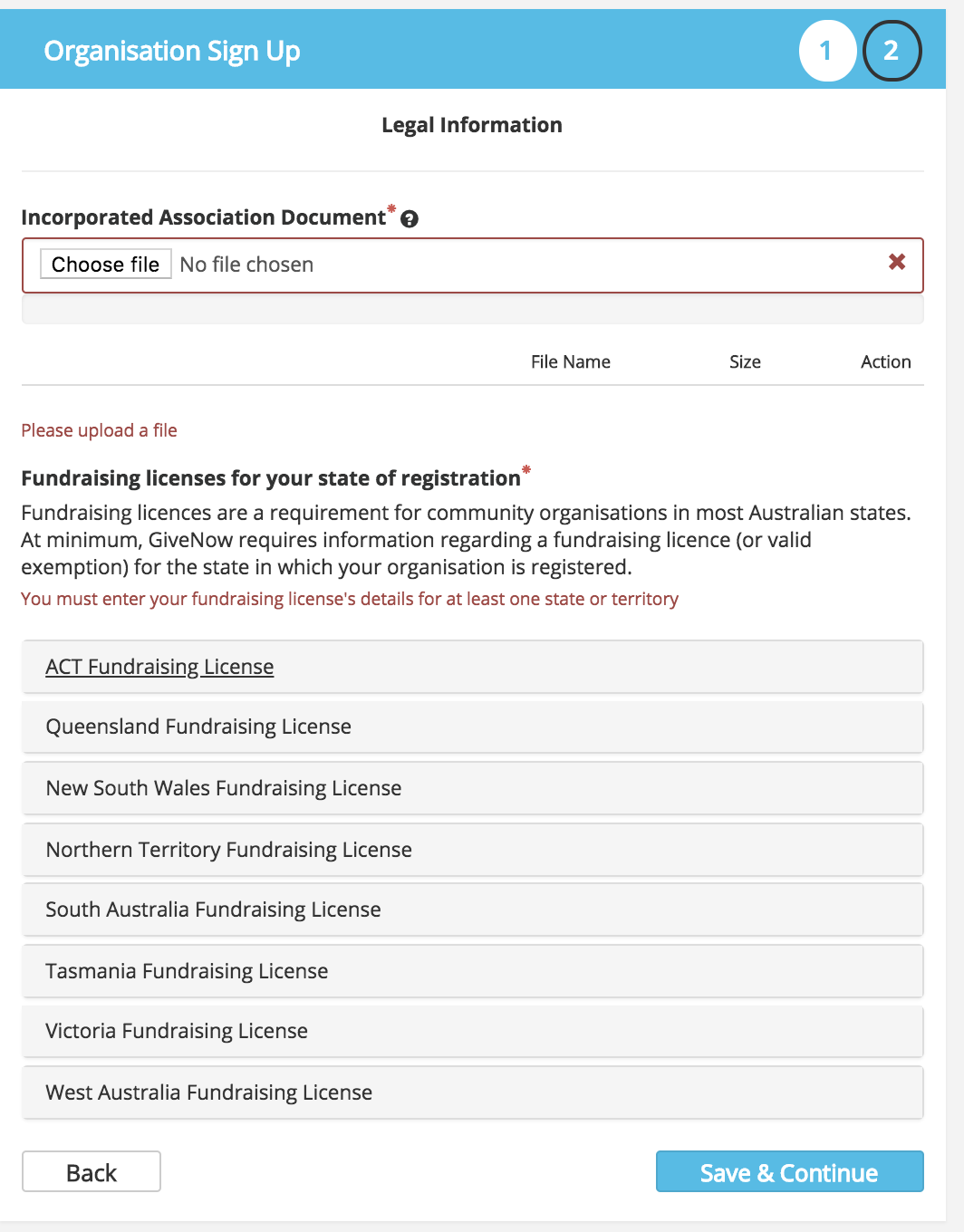 8. Enter your committee member details
For organisations registered with the ACNC, you will just need to provide the full name of your Chair, Secretary and Treasurer. However if you organisation is not registered with the ACNC, you will need to provide the full name, address and digital verification of these committee members.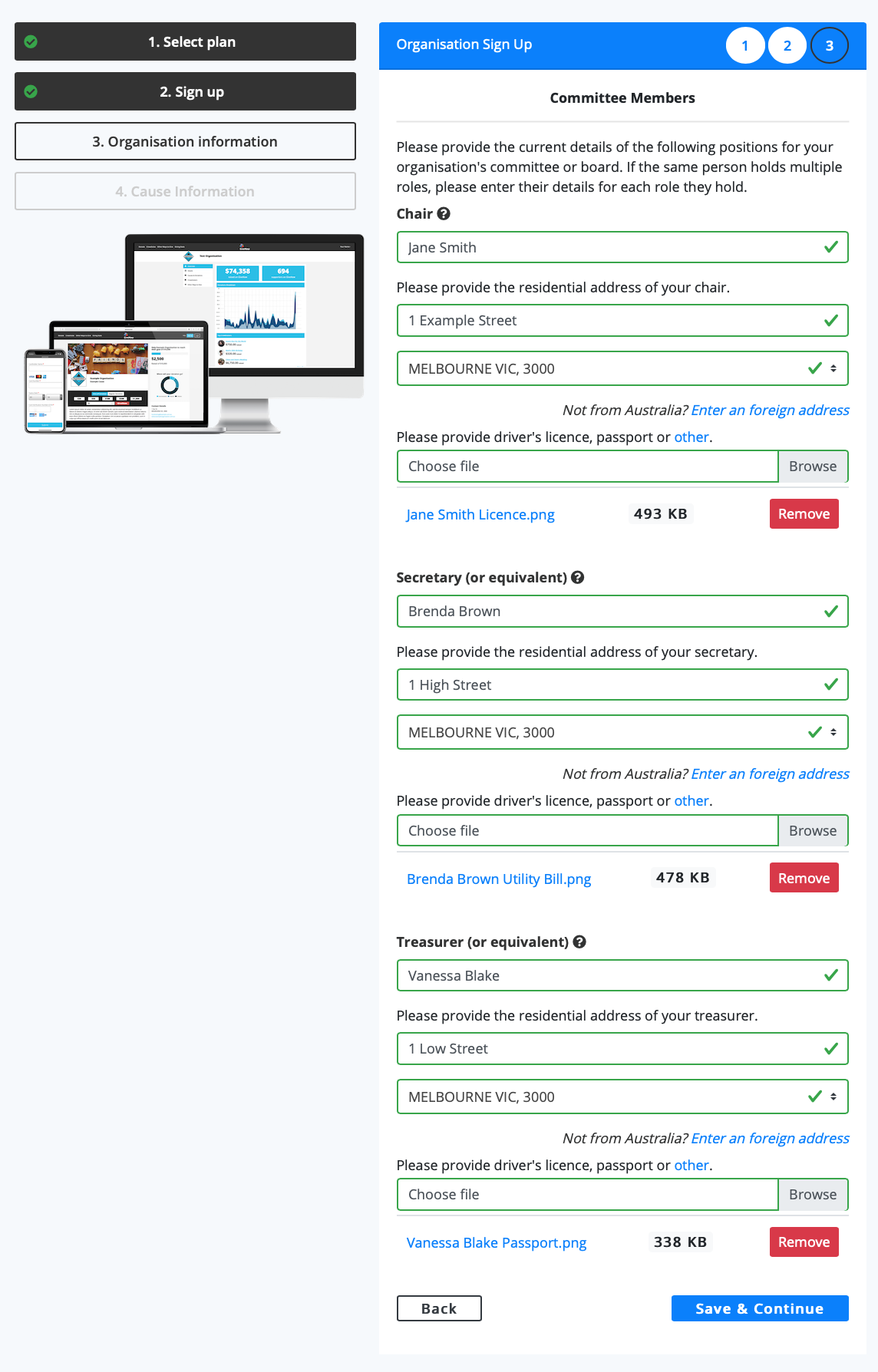 9. Enter a Cause Name (a 'title' for your fundraising page), a Cause Summary (200 characters or less summarising your reason for fundraising), and the Cause Text (a detailed description of your reason for fundraising).
You can enter images and video on the next page, so only enter your text here.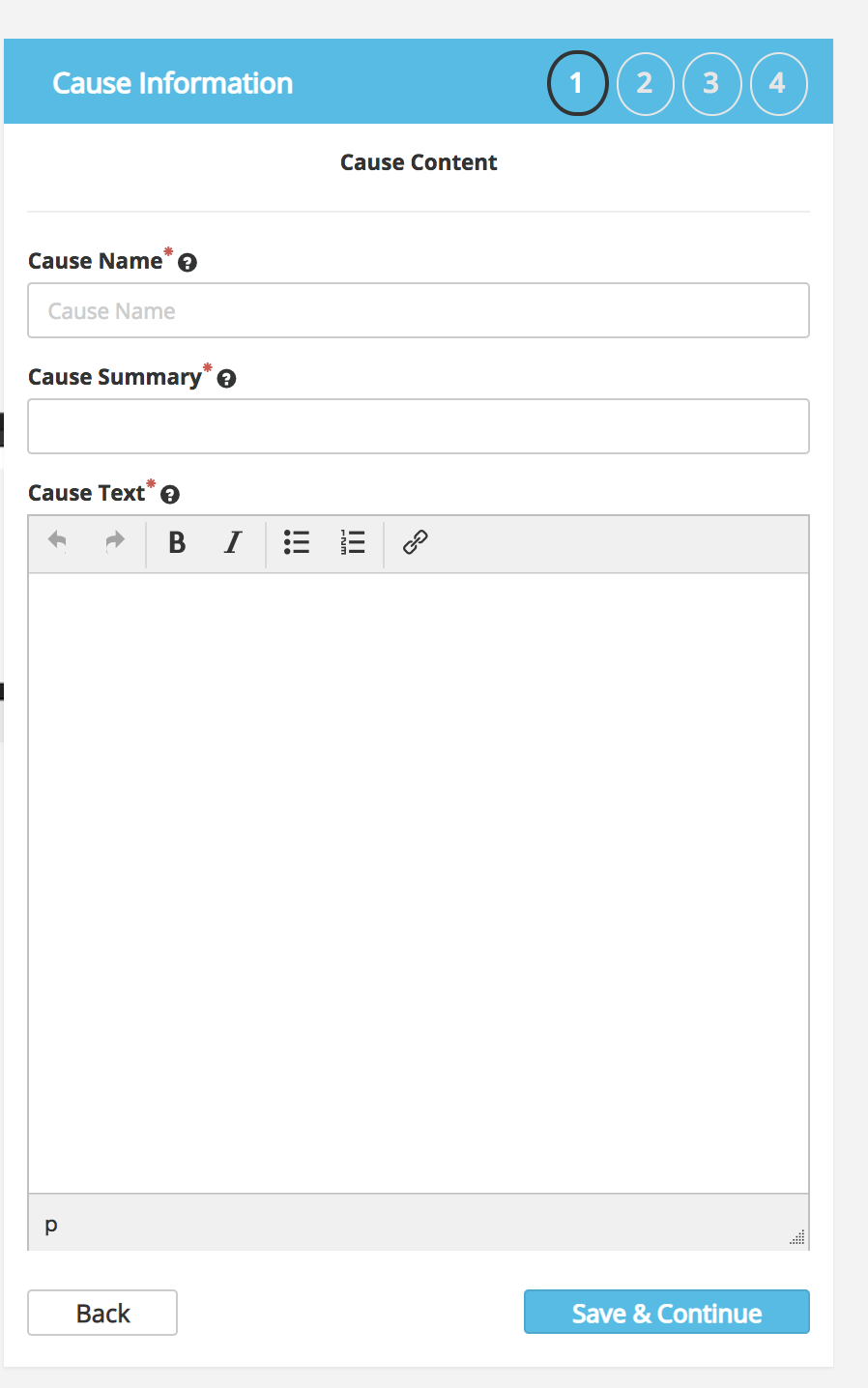 Click 'Save & Continue' when you are happy with your Cause details.
10. Upload your organisation's logo, which will appear on your Cause page. The file for your logo needs to be square in shape, and at least 380 x 380 pixels in size.
Upload your cover photo, which will appear across the top of your cause page. GiveNow cover photos need to be rectangular and landscape. We recommend uploading an image that is 800 pixels wide x 310 pixels high.
You can also upload an additional image which appears below the cause text, and a YouTube video which also appears below the cause text. These are both optional.

When you are happy with your images click 'Save & Continue'.
11. Choose a URL (website address) for your cause page. The first part of the URL is pre-populated, and will always be "www.givenow.com.au/". Choose a short URL that is related to your organisation name or your specific Cause name.
If the URL is not available (because it is already in use) an error message will ask you to try a different one.
Edit the rest of the Cause Information as required, using the tips under the question marks to help you.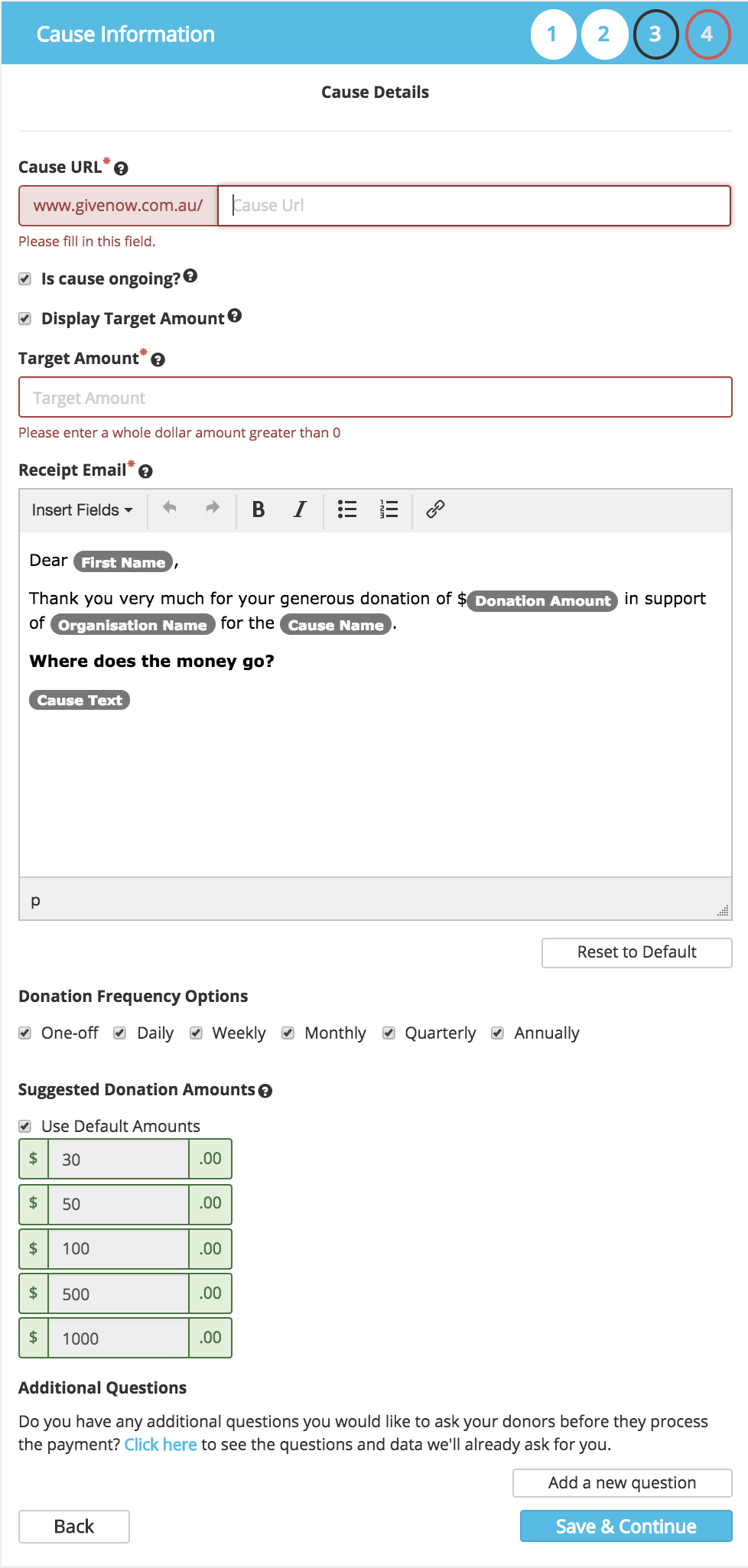 Click 'Save & Continue' when you are happy with your Cause Infomation.
12. Click 'Add a New Bank Account', which will bring up another window where you can enter your organisation's bank details, and upload the bank statement, deposit slip or other bank-issued evidence of the account name, number and BSB.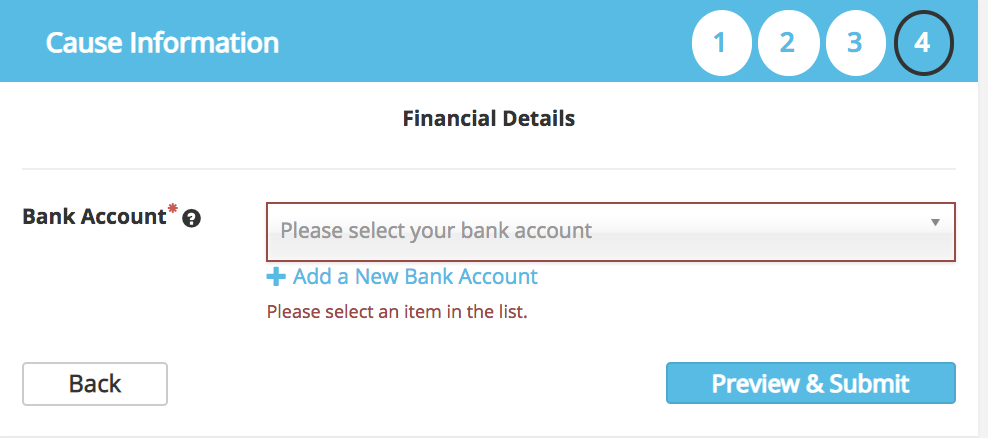 Once the bank account has been added to the Financial Details section, click 'Preview and Submit'.
13. Review all of your details. If you need to change anything, click 'Back'. If you are happy to move forward, click 'Submit'.

GiveNow staff will review your application and will contact you if anything needs to change.
14. Once approved, you will receive an email. Click 'View your organisation' to log in.

15. You have now set up your organisation on GiveNow, and just need to wait 2 business days for the Cause page to be approved.
If you wish to set up a 2nd or 3rd cause page (max 3), please see instructions here: How do I list a new cause?