By Our Community's staff writers
Hundreds of charities, not-for-profits and community organisations are doing their bit to counter the effect of Australia's devastating and continuing bushfire emergencies.
From support for specific communities, to help for animals, rebuilding shattered lives, and one-off crowdfunding, people across the country have galvanised their efforts to assist others.
Most authorities now agree that the most effective way to help is by donating money, with estimates of money raised now exceeding $100 million. Would-be donors considering other forms of aid should check with relevant charities and authorities about what is really needed.
Our Community enterprise GiveNow is among the donations platforms channelling funds to those who need them most, and has seen one-off donations quadruple as thousands seek ways to support victims.
Organisations can only receive donations via GiveNow if they are a verified not-for-profit or charity, have an ABN and an authority to fundraise (if required), and have a verified bank account in the name of the organisation.
Our Community has compiled a list of bushfire-related causes using GiveNow and other platforms below. Scroll for details, or search the site for other causes. You'll also find information on how your group, or one you support, can register to fundraise.
We've included some other useful information to help you avoid scammers, comply with fundraising laws, and plan your campaign.
Contact service@ourcommunity.com.au if we're missing a major fundraiser.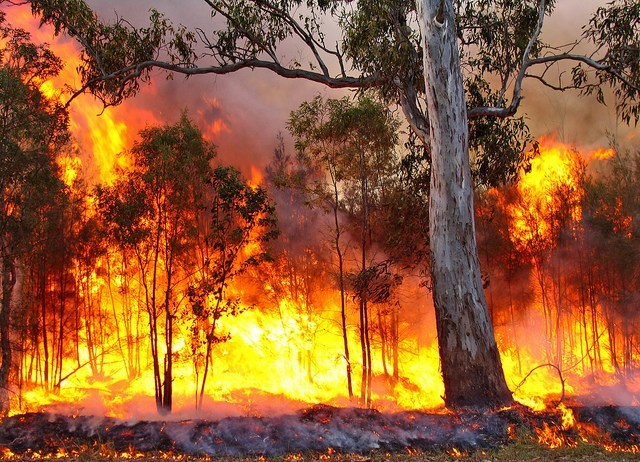 Bushfires have destroyed huge swathes of the countryside, leaving many homeless and displaced, and devastating native habitat and farmland. Picture: Supplied.
Organisations seeking your support on GiveNow
This list shows all organisations using GiveNow to host low-fee and no-fee fundraisers. Most will also allow you to launch a crowdfunding (CrowdRaiser) campaign on their behalf. Just look for the "Create CrowdRaiser" button on an organisation's fundraising page, or click the "Start a CrowdRaiser" links below.
Relief funds and goods
National Bushfire Disaster Appeal: givenow.com.au/bendigobankbushfireappeal | Start a CrowdRaiser
Australian Volunteer Support Trust: givenow.com.au/avst | Start a CrowdRaiser
Community Rebuilding Trust: givenow.com.au/communityrebuildingtrust | Start a CrowdRaiser
Foundation for Rural and Regional Renewal (FRRR) | givenow.com.au/disastersfund
St Vinnie's NSW bushfire emergency appeal: givenow.com.au/vinniesnswbushfire | Start a CrowdRaiser
Gippsland Emergency Relief Fund Appeal: givenow.com.au/gippslandrelieffund
Anglican Relief & Development Fund Australia, bushfire emergency relief: givenow.com.au/anglicanreliefanddevelopmentfund | Start a CrowdRaiser
Good360 disaster relief fund: givenow.com.au/good360 | Start a CrowdRaiser
Stand Up Bushfire Appeal (national Jewish appeal): givenow.com.au/standup-bushfire-appeal | Start a CrowdRaiser
Deaf Australia Bushfire Appeal: givenow.com.au/deafbushfiresappeal | Start a CrowdRaiser
Freemasons Foundation Disaster Relief Fund: www.givenow.com.au/swvba | Start a CrowdRaiser
Shoe Boxes of Love Inc emergency relief packs (SA): givenow.com.au/sbolemergencyreliefpacks | Start a CrowdRaiser
Border Trust Bushfire Relief Fund (Community Foundation for Albury Wodonga Region): www.givenow.com.au/bordertrustbushfirerelief | Start a CrowdRaiser
Kiwanis Australia District Charitable Foundation (Bushfire Disaster Relief): www.givenow.com.au/kiwanisbushfirerelief | Start a CrowdRaiser
Australian Lions Foundation (supported by Australia's Lions Clubs) Emergency Disaster Appeal: givenow.com.au/australianlionsfoundation | Start a CrowdRaiser
Australian Horizons Foundation (Australia Burning): givenow.com.au/fire | Start a CrowdRaiser
The Australian Ireland Fund - Australian Bushfire Relief - A Global Irish Response: givenow.com.au/irelandfundsbushfirerelief
Firefighting services, bushfire preparedness, recovery operations
Habitat for Humanity South Australia - Bushfire Recovery: givenow.com.au/bushfirerecovery | Start a CrowdRaiser
Bushfire Preparedness and Recovery Service (VIC): givenow.com.au/thebushfirefoundation | Start a CrowdRaiser
Volunteer Fire Brigades Victoria Welfare Fund: givenow.com.au/vfbv | Start a CrowdRaiser
NSW Rural Fire Service Association: givenow.com.au/rfsa | Start a CrowdRaiser
Firefighters Charity Fund Appeal (VIC): givenow.com.au/firefighterscharityfund | Start a CrowdRaiser
CFS Foundation (SA): givenow.com.au/cfsfoundation
Bargo Volunteer Rural Fire Brigade (NSW): givenow.com.au/bargorfs | Start a CrowdRaiser
Grose Vale Rural Fire Brigade (NSW): givenow.com.au/gvrfb | Start a CrowdRaiser
Kurrajong Rural Fire Brigade (NSW): givenow.com.au/kurrajongrfs
Bayswater CFA (VIC): givenow.com.au/bayswatercfa | Start a CrowdRaiser
Research CFA (VIC): givenow.com.au/researchcfa
Hall RFS (ACT): givenow.com.au/hallruralfirebrigade
Animal rescue
Australian Wildlife Conservancy, Saving wildlife: AWC's bush fire response & recovery: givenow.com.au/australianwildlife | Start a CrowdRaiser
Wombat Rescue: givenow.com.au/wombatrescue | Start a CrowdRaiser
FAWNA: givenow.com.au/fawna | Start a CrowdRaiser
Wollombi Valley Landcare - Wombats of Wollombi: www.givenow.com.au/wombatsofwollombi
WIRES (Wildlife Information, Rescue & Education): givenow.com.au/wiresappeal | van appeal | Start a CrowdRaiser
Blue Mountains Koala Bushfire Appeal: givenow.com.au/koalaconservation | Start a CrowdRaiser
RSPCA NSW Bushfire Appeal: givenow.com.au/rspcanswbushfireappeal
Wildlife Rescue South Coast Incorporated: givenow.com.au/wildliferescuesouthcoast | Start a CrowdRaiser
Wildcare Australia (SE QLD): givenow.com.au/cause1820 | Start a CrowdRaiser
Wildcare Queanbeyan: givenow.com.au/wildcarequeanbeyan
Wildlife Rescue and Protection Incorporated (Gippsland): givenow.com.au/wrap
Friends of the Western Ground Parrot: www.givenow.com.au/groundparrot | Start a CrowdRaiser
Health support
Victorian Adult Burns Service at The Alfred: givenow.com.au/alfredburnsunit | Start a CrowdRaiser
Gippsland Women's Health, period support: givenow.com.au/periodsupport | Start a CrowdRaiser
Behind the Seen (First responder mental health) givenow.com.au/behindtheseen | Start a CrowdRaiser
Environment recovery
Friends of the Earth Australia, Goongerah Environment Centre (East Gippsland) givenow.com.au/geco
Climate change causes
Seed Indigenous Youth Climate Network: givenow.com.au/seedmob | Start a CrowdRaiser
Climate change and disaster risk reduction (Save the Children): givenow.com.au/savethechildrenaustraliaclimatechange | Start a CrowdRaiser
Citizens' Climate Lobby: givenow.com.au/aucclsolutions | Start a CrowdRaiser
Climate and Health Alliance: givenow.com.au/caha | Start a CrowdRaiser
CLIMARTE Arts for a Safe Climate: givenow.com.au/climarte
Be The Change Public Fund: givenow.com.au/organisation/public/1364
More climate action causes on GiveNow: givenow.com.au/search?term=climate
Bushfire campaigns not on GiveNow
Give funds and goods
Bushfire Disaster Appeal (States): VIC | NSW & ACT | SA & NT | WA | QLD | TAS
(National campaign on GiveNow)
Red Cross disaster relief and recovery | Fundraise for Red Cross
Rotary National Bushfires Appeal
SA State Emergency Relief Fund
Salvation Army bushfire disaster appeal
Save the Children's Child Friendly Spaces campaign
Foodbank bushfire emergency appeal
Fire Relief Fund for First Nations Communities
Good360: Redistributing surplus goods to Australians in need
Kangaroo Island Mayoral Relief and Recovery Bushfire Fund
Adventist Development and Relief agency
It's My Shout (buy virtual goods from impacted businesses)
Donate shares to charity via Share Gift Australia
Mobilising for Mogo Public School (NSW)
Container of Dreams: Tiny homes for the homeless
Support the Girls (fitted bras and underwear for women in need)
Celeste Barber's Facebook campaign for the RFS NSW
FundABed - Find A Bed's fundraising appeal
Donate to help animals
Animals Australia - Help bushfire victims
RSPCA (national) | RSPCA NSW (on GiveNow)
Wildlife Victoria Victorian Bushfire Appeal
Zoos Victoria Bushfire Emergency Wildlife Fund 2020
Foundation for National Parks & Wildlife
Bushfire relief fundraising events
EventBrite: Victorian fundraising events
Give time (volunteering opportunities)
BlazeAid: Helping communities rebuild
Tradies for Fire Affected Communities - a Facebook group for Tradies to volunteer help
Rebuild Together - connecting people willing to volunteer time and skills with those needing help
Volunteering: Advice about helping | VIC | NSW | QLD | SA & NT | SEEK | Red Cross
Help for bushfire victims (receiving help)
Grants for bushfire victims
fundingcentre.com.au/bushfire-relief-grants
These grants have been compiled by Our Community grants database the Funding Centre to list grants covering assistance at federal and state level for households and individuals. This includes allowances and one-off payments, to help victims cope with the disaster. The list also details about grants from the Red Cross, and assistance by all of the major banks. If you have questions about a particular grant, contact the grant provider.
Non-financial assistance for bushfire victims
Givit charity broker for donated goods
Bushfire Housing Assistance Service (NSW)
Bushfire Emergency: Share a Bed | Find A Bed
Business & Sport for Bushfire Recovery - Business Events Victoria (pledge to host meetings, events and business activities in fire hit communities)
AirBNB Open Homes free accommodation for bushfire victims: NSW | VIC
Find a Bed emergency accommodation for people (and pets)
Animal rescue craft guild making craft items for rescue
Disaster legal helpline (VIC) 1800 113 432 | NSW - Legal Aid 1800 801 529
Resound Bushfire Appeal - replacing musical instruments
Rebuild Together - connecting people willing to volunteer time and skills with those needing help
More help options (via Victorian Council of Social Service [VCOSS])
More about some of the bushfire fundraisers
Appeals to help those who've lost homes
Across the country, relief appeals are helping ease the pain of those who have lost everything.
Among them, the St Vincent de Paul Society has a national campaign to raise funds to provide food, clothing, furniture, and utility vouchers for those experiencing hardship. Home visits will also provide much-needed friendship and compassion.
The Anglican Relief and Development Fund Australia is providing help on Australia's east coast, and needs money for relief and to support on-the-ground pastoral care by clergy, lay volunteers and emergency chaplains.
Surplus goods "matchmaker" Good360 is seeking funds to support its distribution of brand-new surplus goods. Good360 connects businesses with Australians in need to supply such things as furniture, mattresses, home goods and other necessities.
In Victoria, the Gippsland Emergency Relief Fund (GERF) – which has been around for 41 years – wants to assist fire-affected East Gippslanders.
Fund president John Mitchell said the appeal follows widespread damage.
"The funds we raise will be distributed to impacted families for discretionary use while insurance and government claims are being processed."
In South Australia, the Shoe Boxes of Love organisation is organising small boxes of essentials for victims of fires in Queensland, SA, Victoria and NSW.

Firefighters need your help
Rural and country firefighting organisations are among those who have created fundraising pages to help with resources to let them continue to battle blazes.
Among them are members of the Rural Fire Service Association, which aims to help those on the frontlines with refreshments, clean T-shirts and hygiene items.
It's created a fund for firefighters and aims to raise $100,000 this fire season.
Both the Bayswater Country Fire Authority and the Research CFA have put a call out for new equipment, seeking support for new "slip-on" attack vehicles that can access hard-to-reach areas.
The Grose Vale and the Bargo rural firefighting units in NSW and the Hall RFS in the ACT have been involved in recent battles to save lives and property, and have fundraisers running.

Wildlife devastated by fires
Animal welfare organisations have stepped up to rescue and protect native fauna affected by bushfires that have torn through their habitat.
On the NSW mid-north coast, FAWNA is conducting a wildlife and nest box appeal to rehabilitate burnt animals and help them survive until conditions improve. They're seeking cash donations to cover the costs of food, pharmaceutical products and housing for injured and starving animals.
The Blue Mountains Koala Project has seen a dozen rescued koalas moved from the Blue Mountains area to Taronga Zoo. The project is seeking funds to collect eucalyptus branches to feed the animals, and to cover the costs of transport when it's safe to return them to the wild. The project will also continue searching for other survivors with a detection dog, setting up water supplies for those animals, and working with fire services to reduce future threats.
And in the wake of huge NSW fires, Wombat Rescue wants your help to feed the thousands of creatures that live in the forests in the Tallaganda State Park and in Currowan. The organisation believes thousands of animals face starvation as a result of vegetation being wiped out by fires, and fears those wombats will need help until the rains return. It expects to use donations to buy hay and other hard feed.
Health help on hand
Health-related causes listed on the GiveNow site include the Victorian Adult Burns Service at The Alfred hospital. The service provides help with complex major burn injuries, as well as less severe burns, for patients based in metro areas, and it also provides outpatient services for rural residents.
Gippsland Women's Health is seeking donations to support period needs for women and girls in the fire-affected communities of East and Far East Gippsland, and will organise donated and purchased goods to be distributed via relief centres.
Fake fundraiser alert, fundraising rules
Authorities have already issued warnings about unscrupulous scammers creating false online fundraising pages in victims' names, and door-knocking to raise funds.
The ACCC has warned that with the high number of appeals being made, inevitably, "some of these are scams". It urged people to report scammers via its Scamwatch website.
The ACCC warned:
Scammers are pretending to be legitimate well-known charities, creating their own charity names, and impersonating people negatively impacted by the bushfires.
Scammers are cold-calling, direct messaging and creating fake websites and pages on social media to raise funds.
Do not donate via fundraising pages on platforms that do not verify the legitimacy of the fundraiser or that do not guarantee your money will be returned if the page is determined to be fraudulent.
Be careful about crowdfunding requests as these may be fake and also come from scammers. Check the terms and conditions of funding platforms and ensure you are dealing with official organisations. If you are unsure, make your donation to an established charity instead.
If you think you have paid money to a scammer, please contact your bank immediately.
Not-for-profit legal advisers Moores recently issued this advice to organisations seeking to fundraise, noting the different rules in states and territories, as well as potential exemptions for some churches, religious organisations, kindergartens, schools and tertiary education providers.
Only verified not-for-profits with an ABN, authority to fundraise, and a bank account in the name of the organisation are able to fundraise with GiveNow.
The Australian Charities and Not-for-profits Commission has also provided useful advice for fundraisers and donors wanting to do the right thing.
Further useful information
Bushfire information: ABC | VIC | NSW | SA | TAS | WA | ACT | NT
Finances: Individual/business support (AFCA) for insurance claims, financial support, counselling
Recovery: National Bushfire Recovery Agency
GiveNow: Search causes | Create account - Individuals/Organisations | Who can use us? | Fee info
Fundraising: Need an authority to fundraise? | Fundraising action plan | Donations help sheets
GivingTuesday blog: More help on how to give
Wellbeing: Beyond Blue's advice on disaster self care | Lifeline resources
Compiled by Matthew Schulz, Clare Hussey and Mark Fitzpatrick