Registering your not-for-profit organisation with GiveNow is a two-step online process.
Provide all the required documentation to prove your not-for-profit status in Australia.
The GiveNow team will review and approve suitable registrations within one business day.
What documentation is required to register?
Prior to starting the registration process with us, ensure you have the following documentation and information available:
Your organisation's ABN
Certificate of Incorporation (or equivalent)
"Authority to Fundraise" in each state you are planning to fundraise in or reason for exemption. Click here for more information.
The details of your committee members, Chair, Secretary and Treasurer. If you are not registered on the ACNC, this will include digital verification of these individuals.
Your organisation's logo
An image to use as a cover photo
Bank details:

A digital copy of a bank statement or deposit slip that shows your organisation's name, BSB and account details all in one screen.
Your authorised signatories for this bank account including their name, email address and date of birth (this data is then encrypted for security purposes).
Review and approval process
Once our team have received your documentation, we will review and respond to you within two business days.
Step by step guide
1. Select Organisation from the top navigation bar of www.givenow.com.au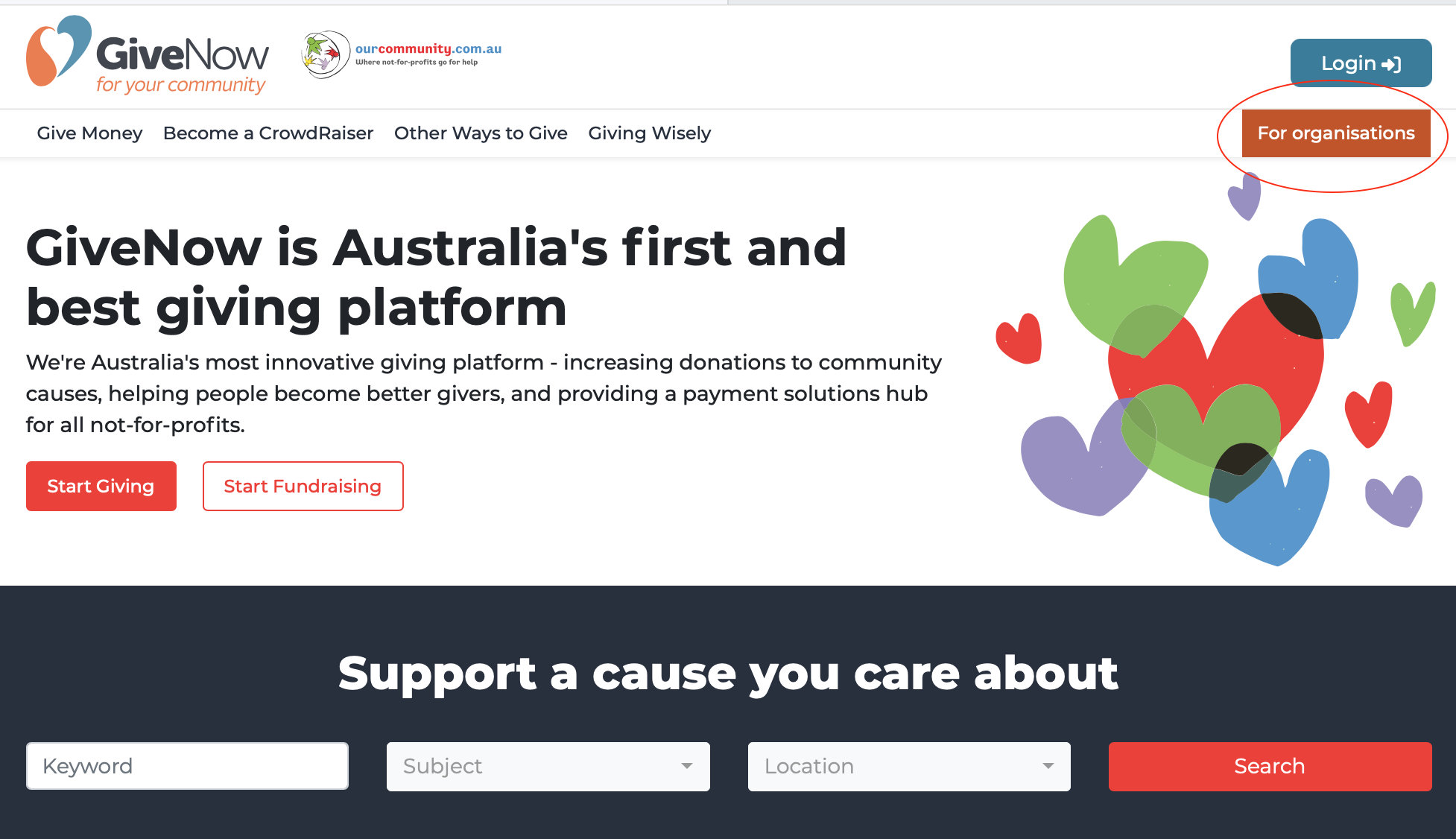 2. You will be taken to https://about.givenow.com.au/ which is a website dedicated to providing information to organisations who want to understand the GiveNow product. Select Sign-Up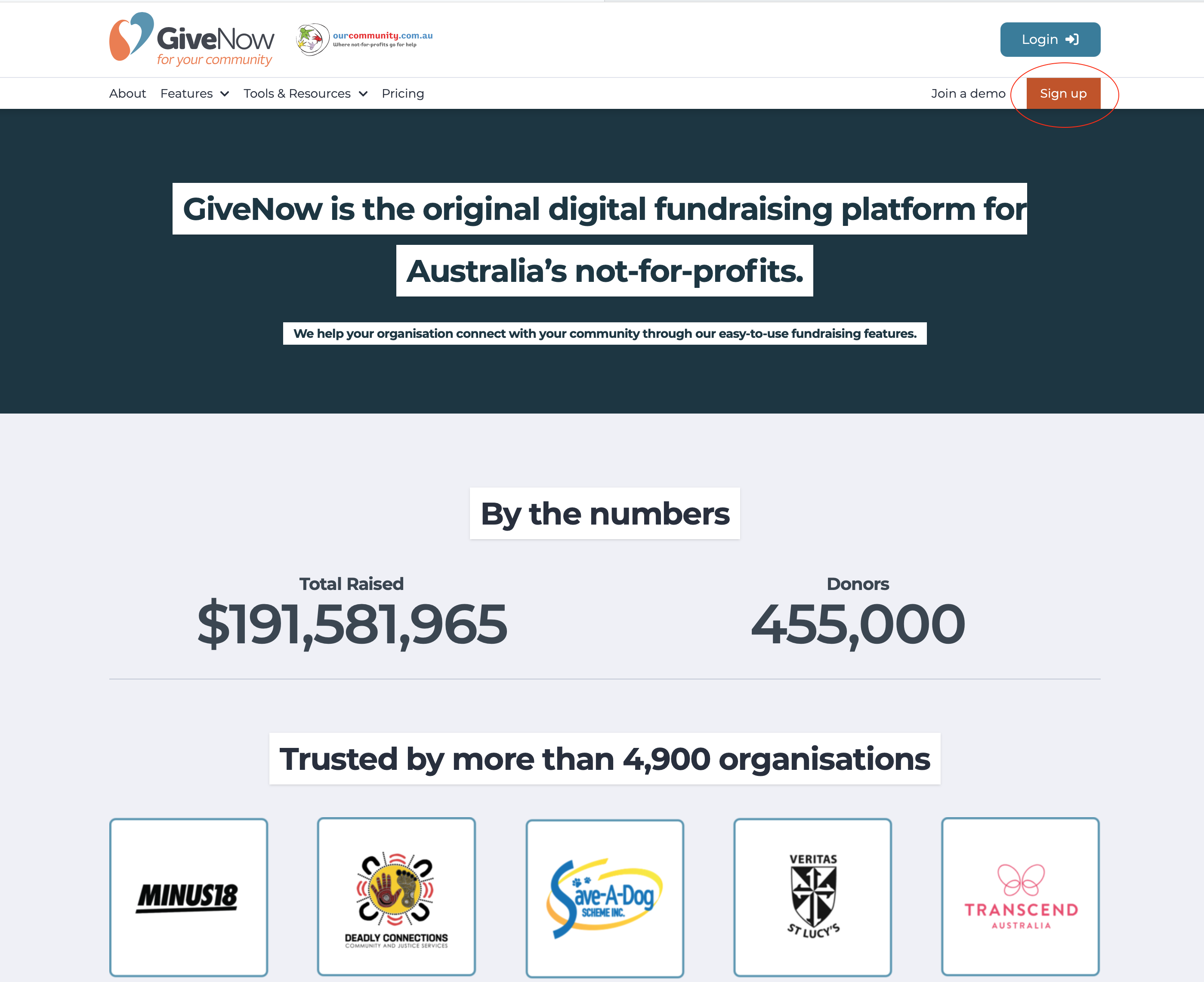 3. Select your plan and click Sign Up for Starter Plan, Sign Up for Basic Plan or Sign Up for Pro Plan. You can change your plan at anytime if your needs change. All of the different plan features are listed on this page.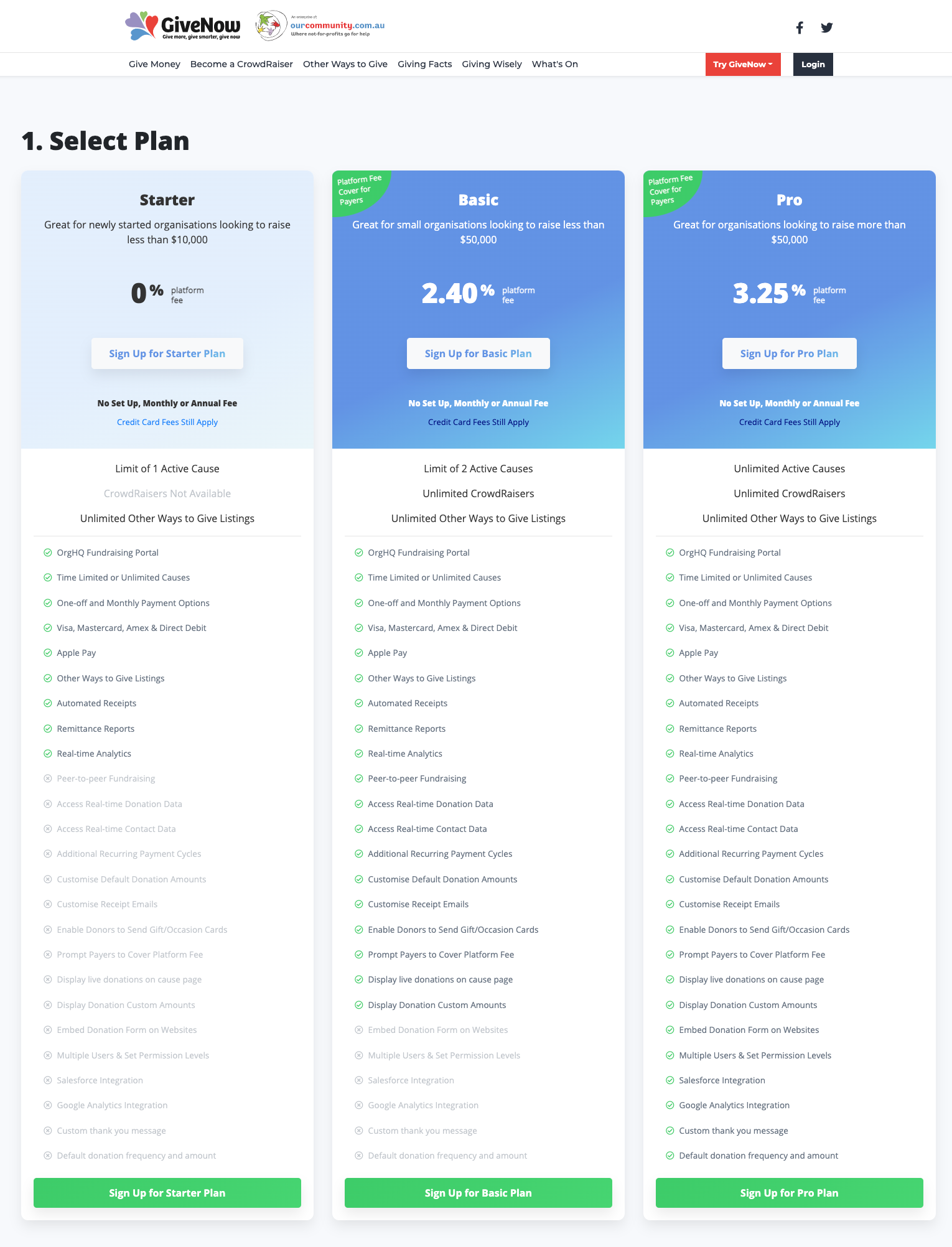 3. Enter your details and Submit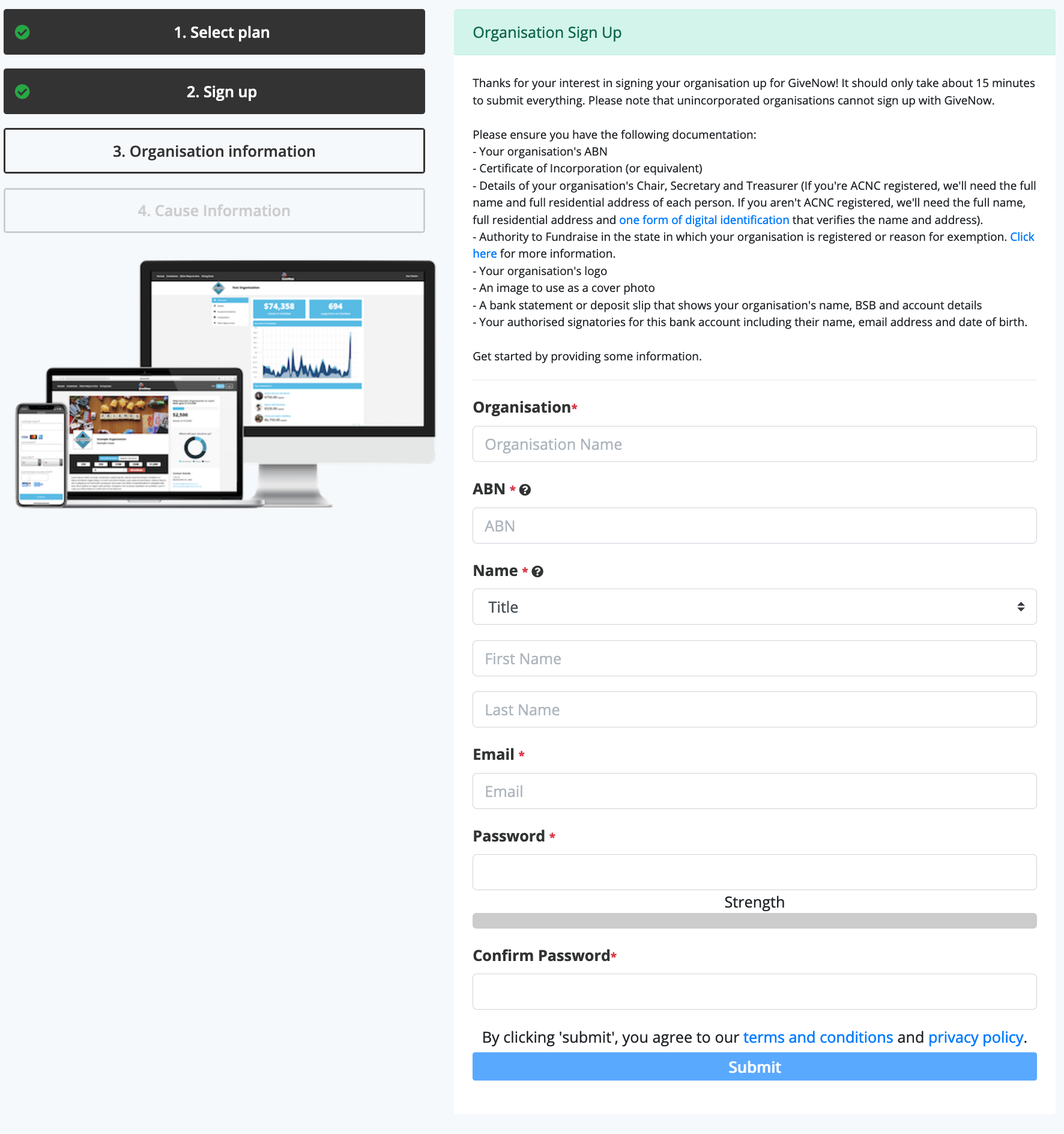 You will then be directed to verify your email address and enter the following organisation information:
contact information of your organisation
legal information of your organisation, including

a digital copy of your 'Incorporated Association Document'
fundraising licences, with a mandatory requirement to enter the details of your fundraising licence (or exemption) for your organisation's state of registration (see here for tips)

the committee member details:

For organisations registered with the ACNC, you will just need to provide the full name of your Chair, Secretary and Treasurer.
For organisations not registered with the ACNC, you will need to provide the full name, address and digital verification

of these committee members.
You will also be asked to enter the details of your first Cause page. This includes:
Cause content, including Cause name, summary and text
images for your page:

logo (380 x 380 pixels in size)
cover image (800(w) x 310(h) pixels for the top banner of the page)
additional image (for the body of the page, optional)

an optional video (link from YouTube)
choosing a URL (website address) for your cause page. Choose a short URL that is related to your organisation name or your specific Cause name. Cause URLs can be up to 60 characters.
Cause end date, or ongoing
Cause target and display options
receipt email default text
donation frequency options
donation suggested donation amounts
additional questions
organisation bank account details (as above)
With all these details entered, click Preview and Submit. When you have reviewed your details, then click 'Submit'.
GiveNow staff will review your application and will contact you if anything needs to change.
Once approved, you will receive an email to notify you of the organisation registration. The activation of your merchant account with our payment processing partner will occur after this organisation approval. This activation, which will allow your Cause page to go live, may take between 1-2 business days to be approved.