Yes they can!
The following donation frequency options are available for causes on the Basic and Pro plans:
One-off
Daily
Weekly
Monthly
Quarterly
Annually
For organisations on the Starter plan, only one-off and monthly regular donations are available.
Why consider a regular donation campaign?
It can revolutionise your community organisation's financial stability. See on the graph below, a GiveNow organisation conducted a regular donation campaign in June 2020 - and it has changed the organisation's ability to program plan enormously!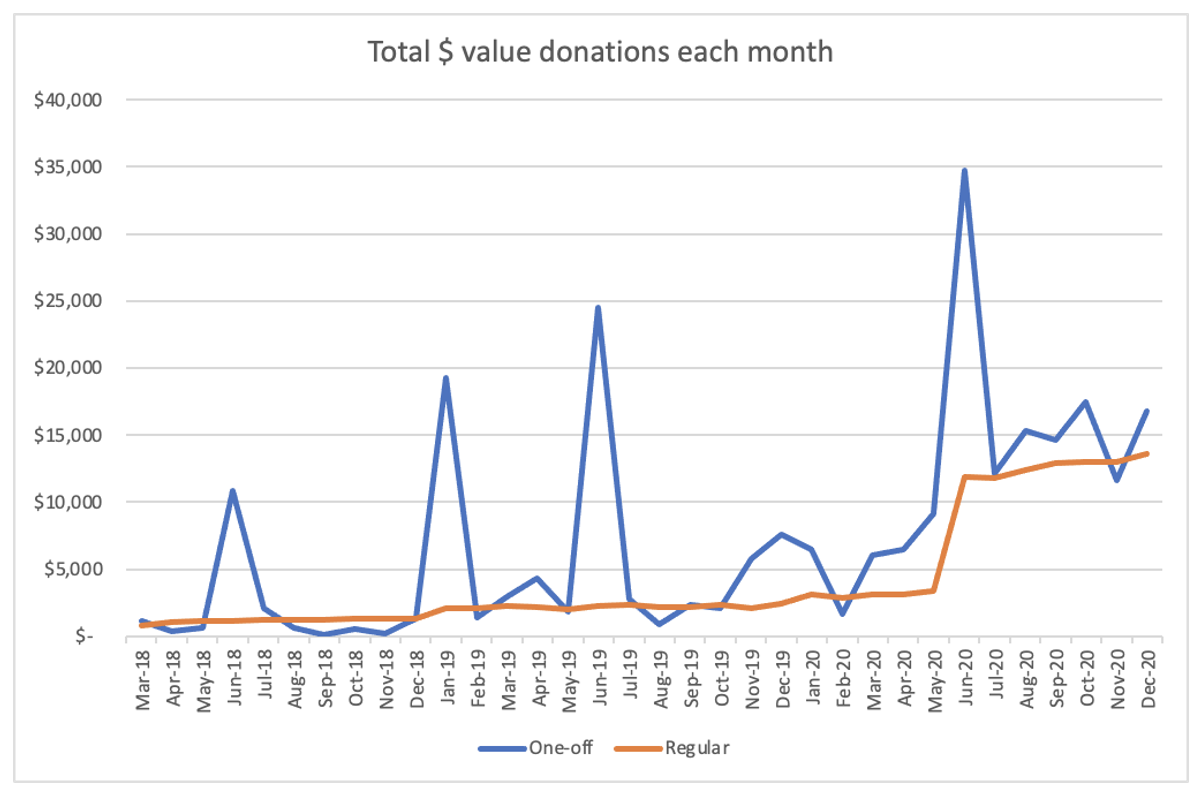 Tips for organisations using GiveNow for their regular donation campaign:
Tip #1: You can disable any of the frequency options to match your campaign.
That means you can have a cause on GIveNow that is only about regular donations, simply by disabling "One-Off".
Or you can have a campaign that only asks for monthly regular donations, by disabling the other 5 frequency options.
To change the frequency options it can be done simply, at anytime in "Edit" section of your cause on our OrgHQ platform.
Tip #2: Match your suggested donation amounts to your campaign
In your cause details, you can set the default donation amounts that appear on the screen when a donor is about to transact.
Align your campaign asks to certain suggested amounts, such as "$30 each month provides transport to and from school for a child", "$100 each month provides a school lunch", etc
Tip #3: Plan your campaign for the GiveNow experience
In 2021 we analysed the GiveNow regular donor patterns and came up with some interesting information that may help you plan your next regular donation campaign:
- 22 months is the average length of time a regular donor maintains their commitment.
- The average value of a regular donation on GiveNow is $46.50.
Tip #4: We offer a direct debit option from donor's bank account - which makes it cheaper for you!
Regular donors are able to use credit card (Visa, MasterCard or AMEX) or their bank account when signing up to a regular donation with your organisation. If donors opt to debit funds from their bank accounts, there is no transaction fee to your organisation!
(Note: the usual platform fee does still apply, see here for full pricing details.)
Tip #5: Look after your regular donors!
Our analysis shows that almost 40% of regular donation commitments end because the payment method declines three times. On the GiveNow platform, you can monitor your regular donors
How do regular donations work on GiveNow?
Donors are able to nominate the frequency of their donation in the payment page. By default, all frequency options (appropriate for your plan) will appear.
If a donor opts for a regular donation, their first donation will occur immediately. Thereafter the donations will occur automatically, requested by our system. The donor will receive a receipt for every transaction completed.
Should a regular donation decline, we will notify the donor automatically via email of the failed transaction. In the email sent, the donor is informed as to what they need to do.
We will attempt to process a regular donation three times (that is, for example, once a month for three months). If the regular donations fails consecutively three time, we will inform the donor that the regular donation request has now been cancelled.